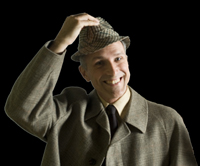 Agatha Christie meets the Carry On team!
An evening of intrigue and innuendo served up in equal measure!
Can be performed in almost any space.
Spring 2016.
Booking now open. Hothouse is returning to Murder Mystery as part of it's fund raising to take a new play to Edinburgh 2016 and we are offering the opportunity for local groups to benefit and use it as a fund raiser for their causes at the same time. Hothouse will provide the performance and fit it around a meal or a buffet to help turn the evening into a fun gala fund raiser with an outrageous feel. We will perform for a flat fee, box office split or other arrangement that is of mutual benefit.
How to book
At this stage we are looking for expressions of interest. All we need to know at the moment is; the date or dates you are thinking of, whether you intend to included food as part of the evening (you will have to organise food, we will fit around any arrangements you make) the venue you are intending to use (we can perform in almost any space but we will need to check it out before making a firm commitment) An expression of interest will provisionally reserve a date. Tel 07963020259
email guy@hothousetheatre.com