Hothouse Theatre's Nottingham Film Festival III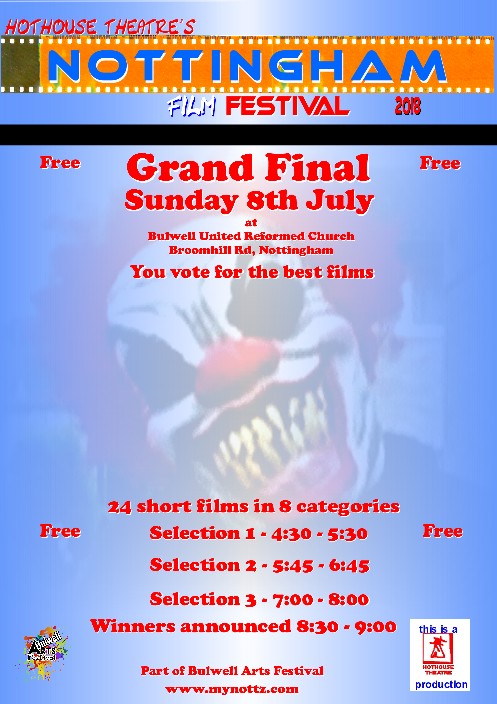 Hothouse Theatre's Nottingham Film Festival Grand Final Sunday 8th July at Bulwell United Reformed church Broomhill Rd, Nottingham NG6 9GJ Live screening of some of the very best in short filmmaking chosen from over 1,000 entries from around the world! 3 sessions of films - Each with 10 films from the categories: Advert or Trailer, Animated, Artistic, Factual, Fictional, Foreign Language, Music, Young Person's Film The audience vote for their favourites.
click here
Hothouse Theatre's Nottingham Film Festival is part of the Bulwell Arts Festival
About Hothouse Theatre
Hothouse Theatre is a charity working in greater Nottingham. We work with individuals of all ages and abilities as well as with community projects. We use the creative process involved in producing theatre, drama, film, music and art to help develop confidence, aspiration and to address issues within the community. Hothouse was formed in 1998. Became a Company Limited by Guarantee in 2008 and a Registered Charity 2013. In that time we have run many and varied projects including: • an online magazine to engage disadvantaged young people and showcase their work.
click here
• fringe theatre productions including taking a show to the Edinburgh Fringe.
click here
• film clubs where young people get involved with making films.
click here
• film festivals organised and run by young people giving them an insight into how community projects and planned, advertised an organised.
click here
• showcase theatre projects allowing people of all ages and abilities to have-a-go at all aspects of theatre production using 10 minute scripts to help build confidence • production of promotional videos for community projects with young people involved in the production of the videos thereby exposing them to the work of projects in the voluntary community sector Currently we are working with; disadvantaged young people of all abilities producing an online magazine, adults on fringe theatre projects, community groups to help develop the skills and confidence of volunteers, young people with support needs to help them integrate with other young people, and community projects to help them highlight issues and promote their work.